Realizing that to change things for the better, everyone must do something, we, the staff of the W.C. Lion, would like to make a suggestion: COME TOGETHER. Where there is hate, why not put in a little love? Where there is war, peace; where there is misunderstanding, let us find tolerance. At first glance, that may seem simple enough, but it is really a tremendous task. It means giving of oneself, sharing with others, investigating the problems of our society . . . and finding workable solutions.
-West Charlotte Lion, 1971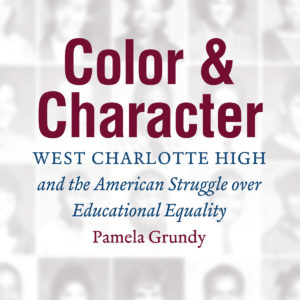 Newsweek tags Charlotte as ground zero for the ills of American school resegregation.
My Response: Resegregation: Where Do We Go from Here?
Check out Color & Character for the full story of what happened and what may lie ahead.
Available now from UNC Press, Amazon and other booksellers.
If you're in Charlotte, Park Road Books is the place to go!
Contact: colorandcharacter@gmail
At a time when race and inequality dominate national debates, the story of segregation, desegregation, and resegregation at West Charlotte High School illuminates the possibilities and challenges of using racial and economic desegregation to foster educational equality. Drawing on nearly two decades of interviews with students, parents, educators, and alumni, Color and Character uses the history of a community's beloved school to tell a broader American story of education, community, democracy, and race – all while raising questions about present-day strategies for school reform.
Pamela Grundy has produced a remarkable book, capturing the story of the desegregation and resegregation of one of America's greatest high schools. She brings to life fully the success and failure, joy and pain, hope and despair at the heart of the American pursuit of racial equality. And she shows that the hopes and dreams of millions of children and their advocates depend on the ability of our schools – and our society – to work for all of us, not just the privileged few.
– James E. Ferguson II, West Charlotte parent and longtime civil rights lawyer
Upcoming Events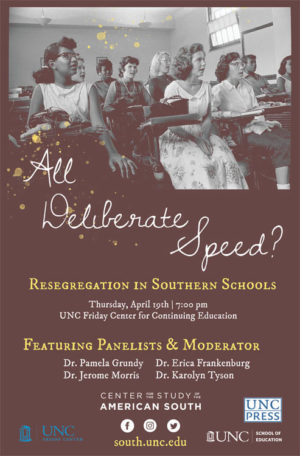 April 19 – Education and Resegregation Town Hall
Friday Center, U.N.C. Chapel Hill – 7-9 p.m.
April 25 – "The Saga of West Charlotte High: Where Do We Go from Here?"
Popp-Martin Student Center, U.N.C. Charlotte – noon-1:30 p.m.
Chapter summaries, themes, questions, timelines and other materials to help students, book club members and others think through the stories in Color and Character.
West Charlotte High's eight decades of history are documented in multiple online resources, including yearbooks and dozens of oral history interviews. For those who'd like to learn more about the school, the links on this page will get you started.
Blog: Color, Character and Coming Together
Color, Character and Coming Together draws on my years of West Charlotte history research, and on my own experiences helping to reintegrate Shamrock Gardens Elementary, which my son (second from right) attended from 2006-2012. My Shamrock blog, Seen from the 'Rock, describes some of our experiences there.
My other work includes books, articles, and museum exhibitions on subjects that include women's basketball history, North Carolina history, and American sports history.